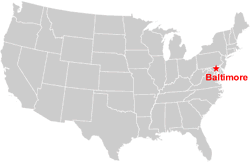 Baltimore is the largest city in the state of Maryland, the largest independent city in the United States, and the 26th-most populous city in the country. It is located in the central area of the state along the tidal portion of the Patapsco River, an arm of the Chesapeake Bay.
The independent city is often referred to as Baltimore City to distinguish it from the surrounding Baltimore County. Founded in 1729, Baltimore is the second largest seaport in the Mid-Atlantic United States and is situated closer to Midwestern markets than any other major seaport on the East Coast.
Restaurants
Edit
Ad blocker interference detected!
Wikia is a free-to-use site that makes money from advertising. We have a modified experience for viewers using ad blockers

Wikia is not accessible if you've made further modifications. Remove the custom ad blocker rule(s) and the page will load as expected.