<-- Previous Episode -- List of Triple D Episodes -- Next Episode -->
---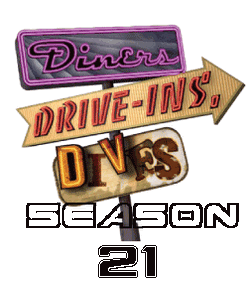 Cross-Country Classics is the third episode from the twenty-first season of Diners, Drive-Ins, and Dives.
Original air date: September 19, 2014
Description
Edit
Episode: (DV2103H)
"This trip, Guy is roadtrippin' all over the country for some home-style cooking. In Boston, the funky neighborhood joint cranking out Southern staples, like chicken and waffles and off-the-hook tots. In Carmel, Calif., Robert Irvine is riding shotgun to check out the cool cafe centered around scratch-made classics, like amped-up biscuits and gravy and brisket chili. And in Superior, Wis., the sports bar scoring with classics like house-cured meat pizza and a super special chicken sandwich.
Restaurants
Edit
External Links
Edit
Ad blocker interference detected!
Wikia is a free-to-use site that makes money from advertising. We have a modified experience for viewers using ad blockers

Wikia is not accessible if you've made further modifications. Remove the custom ad blocker rule(s) and the page will load as expected.