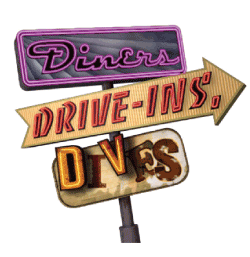 Presented herein is a list of episodes of Diners, Drive-Ins, and Dives (affectionately known as "Triple D"), sorted by season, with links to the pages for the restaurants, diners, drive-ins, dives, food trucks, and other places of interest visited by Guy Fieri in each episode.
Episode Guide
Edit
Note: Dead links serve as guide for future articles.
Season 1
Edit
23 April 2007 - 30 July 2007
Episode
Title
Restaurant
Location
Original Air Date
DV0101
Classics
Mac & Ernie's Roadside Eatery
Tarpley, Texas
April 23, 2007
Brint's Diner
Wichita, Kansas
Mad Greek's Diner
Baker, California
DV0102
That's Italian
Four Kegs Sports Pub
Las Vegas, Nevada
April 30, 2007
Hullabaloo Diner
Wellborn, Texas
Pizza Palace
Knoxville, Tennessee
DV0103
Blue Plate Special
The Penguin
Charlotte, North Carolina
May 7, 2007
Patrick's Roadhouse
Santa Monica, California
Frosted Mug
Alsip, Illinois
DV0104
Breakfast
The Coffee Cup
Boulder City, Nevada
May 21, 2007
Frank's Diner
Kenosha, Wisconsin
Gaffey Street Diner
San Pedro, California
DV0105
BBQ
Louie Mueller BBQ
Taylor, Texas
May 28, 2007
Baby Blues BBQ
Venice, California
Barbecue King Drive-In
Charlotte, North Carolina
DV0106
Local Legends
Eveready Diner
Hyde Park, New York
June 4, 2007
Leo's BBQ
Oklahoma City, Oklahoma
A1 Diner
Gardiner, Maine
DV0107
Burgers
Triple XXX Restaurant
West Lafayette, Indiana
June 11, 2007
Hackney's
Glenview, Illinois
Squeeze Inn
Sacramento, California
DV0108
House Specials
Red Arrow Diner
Manchester, New Hampshire
June 18, 2007
Hank's Creekside Restaurant
Santa Rosa, California
Voula's Offshore Café
Seattle, Washington
DV0109
Retro
Southside Soda Shop and Diner
Goshen, Indiana
July 9, 2007
Taylor's Automatic Refresher
St. Helena, California
Byways Café
Portland, Oregon
DV0110
Worth the Trip
Big Star Diner
Bainbridge Island, Washington
July 16, 2007
Harold's Café
Gaffney, South Carolina
Mo Gridder's BBQ
Bronx, New York
DV0111
Diners A-Plenty
Kelly's Diner
Somerville, Massachusetts
July 23, 2007
Bay Way Diner
Linden, New Jersey
Beacon Drive-In
Spartanburg, South Carolina
DV0112
American Cookin'
Rosie's Diner
Rockford, Michigan
July 30, 2007
Dari-ette Drive-In
St. Paul, Minnesota
The Russian River Pub
Forestville, California
Al's Breakfast
Minneapolis, Minnesota
Season 2
Edit
Episode
Title
Restaurant
Location
Original Air Date
DV0201H
Totally Fried
Falafel's Drive-In
San Jose, California
October 1, 2007
Ramona Café
Ramona, California
Silk City Diner
Philadelphia, Pennsylvania
DV0202H
Route 66
Emma Jean's Holland Burger Café
Victorville, California
October 8, 2007
The Rock Café
Stroud, Oklahoma
Café on the Route
Baxter Springs, Kansas
DV0203H
Seaside Eats
Evelyn's Drive-In
Tiverton, Rhode Island
October 15, 2007
Hodad's
Ocean Beach, California
Keegan's Seafood Grille
Indian Rocks Beach, Florida
DV0204H
Local Flavor
Clanton's Café
Vinita, Oklahoma
October 22, 2007
Mike's Chili Parlor
Seattle, Washington
Duarte's Tavern
Pescadero, California
DV0205H
Viewer's Choice
Bobby's Hawaiian Style Restaurant
Everett, Washington
October 29, 2007
Ted Peters Famous Smoked Fish
South Pasadena, Florida
Psycho Suzie's Motor Lounge
Minneapolis, Minnesota
DV0206H
Real Deal BBQ
Jay Bee's Bar-B-Que
Gardena, California
November 5, 2007
Smoque
Chicago, Illinois
BBQ Shack
Paola, Kansas
DV0207H
Talkin' Turkey
Mike's City Diner
Boston, Massachusetts
November 10, 2007
Willie Bird's Restaurant
Santa Rosa, California
Alpine Steakhouse
Sarasota, Florida
DV0208H
One of a Kind
JT Farnham's Seafood & Grill
Essex, Massachusetts
November 19, 2007
Joe's Gizzard City
Potterville, Michigan
Grubstake Diner
San Francisco, California
Los Tapatios
San Jose, California
DV0209H
Family Owned
El Indio
San Diego, California
November 23, 2007
Charlie's Diner
Spencer, Massachusetts
Paradise Pup
Des Plaines, Illinois
DV0210H
Open 24/7
Studio Diner
San Diego, California
January 13, 2008
White Palace Grill
Chicago, Illinois
The Dining Car & Market
Philadelphia, Pennsylvania
DV0211H
Off the Hook Specials
Schooner or Later
Long Beach, California
January 20, 2008
Grinder's
Kansas City, Missouri
The Fly Trap
Ferndale, Michigan
Gailwood Cook Shack
Chicago, Illinois
DV0212H
Burgers, Rings and Fries
Joe's Cable Car
San Francisco, California
January 21, 2008
The Nook
St. Paul, Minnesota
Krazy Jim's Blimpy Burger
Ann Arbor, Michigan
DV0213H
The New Jersey Diner Tour
Mustache Bill's
Barnegat Light, New Jersey
January 28, 2008
Tick Tock Diner
Clifton, New Jersey
White Manna Hamburgers
Hackensack, New Jersey
The Ritz Diner
Livingston, New Jersey
Hightstown Diner
Hightstown, New Jersey
Skylark Diner
Edison, New Jersey
Jefferson Diner
Lake Hopatcong, New Jersey
Season 3
Edit
Episode
Title
Restaurant
Location
Original Air Date
DV0301H
Big Breakfast
Brownstone Diner
Jersey City, New Jersey
March 10, 2008
39th Street Mama's
Kansas City, Missouri
Matt's Big Breakfast
Phoenix, Arizona
DV0302H
Like Mamma Made
Roberto's Mexican Food
Phoenix, Arizona
March 17, 2008
Smokey Valley Truck Stop
Olive Hill, Kentucky
Sweetie Pie's
St. Louis, Missouri
DV0303H
Regional Favorites
Charlie Parker's
Springfield, Illinois
March 24, 2008
Tecolote Café
Santa Fe, New Mexico
Virginia Diner
Wakefield, Virginia
DV0304H
Neighborhood Joints
Thee Pitts Again
Glendale, Arizona
March 31, 2008
Iron Barley
St. Louis, Missouri
Daddypops
Hatboro, Pennsylvania
The Village Café
Richmond, Virginia
DV0305H
A World of Flavors
Chino Bandido
Phoenix, Arizona
April 7, 2008
Marietta Diner
Marietta, Georgia
YJ's Snack Bar
Kansas City, Missouri
DV0306H
Something Different
Scully's Tavern
Miami, Florida
April 14, 2008
Dot's Back Inn
Richmond, Virginia
Hillbilly Hot Dogs
Lesage, West Virginia
DV0307H
American Classics
11th Street Diner
Miami Beach, Florida
May 18, 2008
Bobo Drive-In
Topeka, Kansas
Little Tea Shop
Memphis, Tennessee
DV0308H
Real Deal Fast Food
Panini Pete's
Fairhope, Alabama
May 19, 2008
Joe's Farm Grill
Gilbert, Arizona
Maria's Taco Express
Austin, Texas
DV0309H
The Memphis BBQ Tour
Cozy Corner
Memphis, Tennessee
May 26, 2008
Leonard's BBQ
Marlowe's Ribs
Tom's Bar-B-Q
DV0310H
Comfort Food
Grampa's Bakery & Restaurant
Dania Beach, Florida
June 15, 2008
Blue Moon Café
Baltimore, Maryland
Central City Café
Huntington, West Virginia
Tip Top Café
San Antonio, Texas
DV0311H
Where The Locals Go
Matthews Cafeteria
Tucker, Georgia
June 23, 2008
The Rivershack Tavern
Jefferson, Louisiana
Monte Carlo Steak House
Albuquerque, New Mexico
DV0312H
All Kinds of BBQ
The Joint
New Orleans, Louisiana
July 7, 2008
The Shed
Ocean Springs, Mississippi
Texas Pride BBQ
Adkins, Texas
DV0313H
In the Family
Benny's Seafood Restaurant
South Miami, Florida
June 30, 2008
Chaps Pit Beef
Baltimore, Maryland
Burger Bar
Roy, Utah
Season 4
Edit
Episode
Title
Restaurant
Location
Original Air Date
DV0401H
Brain Freeze
Doumar's
Norfolk, Virginia
July 14, 2008
Aunt Lena's Creamery
Chandler, Arizona
The Creole Creamery
New Orleans, Louisiana
DV0402H
Diners You Sent Me To
Town Talk Diner
Minneapolis, Minnesota
July 21, 2008
Blue Plate Diner
Salt Lake City, Utah
Broadway Diner
Baltimore, Maryland
DV0403H
Bar Food
The Highlander
Atlanta, Georgia
July 28, 2008
Gumbo Shack
Fairhope, Alabama
Starlite Lounge
Blawnox, Pennsylvania
DV0404H
Burgers and Dogs
The Wienery
Minneapolis, Minnesota
August 4, 2008
Casino El Camino
Austin, Texas
G&A Restaurant
Baltimore, Maryland
DV0405H
Where the Locals Eat
Uncle Lou's
Memphis, Tennessee
August 11, 2008
Captain Chuck A Mucks
Rescue, Virginia
Dixie Quicks
Omaha, Nebraska
DV0406H
Totally Unexpected
Cabbage Town Market
Atlanta, Georgia
August 18, 2008
The Cove
San Antonio, Texas
Bryant-Lake Bowl
Minneapolis, Minnesota
DV0407H
A Taste of Everywhere
Jamaica Kitchen
Kendall Lakes, Florida
September 15, 2008
Crystal Restaurant
Pittsburgh, Pennsylvania
Red Iguana
Salt Lake City, Utah
DV0408H
Better Than Ever
Colonnade
Atlanta, Georgia
September 22, 2008
Manci's Antique Club
Daphne, Alabama
Amato's
Omaha, Nebraska
DV0409H
Big Flavor
Darwell's Café
Long Beach, Mississippi
September 29, 2008
Brick Oven Pizza
Baltimore, Maryland
Victor's 1959 Café
Minneapolis, Minnesota
DV0410H
Cookin' It Old School
Nadine's Restaurant
Pittsburgh, Pennsylvania
October 6, 2008
Casamento's Restaurant
New Orleans, Louisiana
Big Mama's Kitchen & Catering
Omaha, Nebraska
DV0411H
Grabbin' a Sandwich
Moochie's Meatballs & More
Salt Lake City, Utah
October 13, 2008
Cemitas Puebla
Chicago, Illinois
Tioli's Crazee Burger
San Diego, California
DV0412H
Traditional Dishes
Donatelli's
White Bear Lake, Minnesota
November 3, 2008
Stoney Creek Inn
Baltimore, Maryland
Alcenia's
Memphis, Tennessee
DV0413H
Doin' Their Own Thing
Lone Star Taqueria
Salt Lake City, Utah
November 10, 2008
Modern Café
Minneapolis, Minnesota
Brewburger's
Omaha, Nebraska
Season 5
Edit
Episode
Title
Restaurant
Location
Original Air Date
DV0501H
What's For Breakfast
Surrey's Café
New Orleans, Louisiana
November 10, 2008
Harry's Roadhouse
Santa Fe, New Mexico
Dor-Stop Restaurant
Pittsburgh, Pennsylvania
DV0502H
Real Deal Italian
LoBello's Spaghetti House
Coraopolis, Pennsylvania
November 17, 2008
Di Pasquale's
Baltimore, Maryland
Pizzeria Luigi
San Diego, California
DV0503H
Not What You'd Expect
Sophia's Place
Albuquerque, New Mexico
November 24, 2008
Magnolia Café
Austin, Texas
Glenn's Diner
Chicago, Illinois
DV0504H
Places You Sent Me
Ruth's Diner
Salt Lake City, Utah
December 1, 2008
O'Rourke's Diner
Middletown, Connecticut
Parasol's
New Orleans, Louisiana
DV0505H
Long Time Legends
Tommy's Joynt
San Francisco, California
January 5, 2009
Joe Tess Place
Omaha, Nebraska
Big Jim's
Pittsburgh, Pennsylvania
DV0506H
Something from Everywhere
Valencia Luncheria
Norwalk, Connecticut
January 12, 2009
The Original Vito & Nick's Pizzeria
Chicago, Illinois
Emily's Lebanese Delicatessen
Minneapolis, Minnesota
DV0507H
Neighborhood Favorites
Pat's BBQ
Salt Lake City, Utah
January 19, 2009
Blow Fly Inn
Gulfport, Mississippi
Tune-Up Café
Santa Fe, New Mexico
DV0508H
Just Like Yesterday
Hob Nob Hill
San Diego, California
January 26, 2009
The Silver Skillet
Atlanta, Georgia
Tufano's Vernon Park Tap
Chicago, Illinois
DV0509H
Return to Route 66
Standard Diner
Albuquerque, New Mexico
February 2, 2009
Dell Rhea's Chicken Basket
Willowbrook, Illinois
Salsa Brava
Flagstaff, Arizona
DV0510H
Smokin' BBQ
Green Mesquite
Austin, Texas
February 9. 2009
Gorilla BBQ
Pacifica, California
Wilson's Holy Smoke BBQ
Fairfield, Connecticut
DV0511H
Regional Classics
Cecilia's Café
Albuquerque, New Mexico
February 16, 2009
Joey K's Restaurant & Bar
New Orleans, Louisiana
Kelly O's Diner
Pittsburgh, Pennsylvania
DV0512H
All Kinds of Fast Food
Super Duper Weenie
Fairfield, Connecticut
March 16, 2009
California Tacos
Omaha, Nebraska
Bert's Burger Bowl
Santa Fe, New Mexico
DV0513H
Family Favorites
Giusti's
Walnut Grove, California
March 23, 2009
Haus Murphy's
Glendale, Arizona
Louie's
Dallas, Texas
Season 6
Edit
Episode
Title
Restaurant
Location
Original Air Date
DV0601H
Funky Joints
Bizzaro Café
Seattle, Washington
April 6, 2009
Chef Point Café
Wautaga, Texas
Jamie's Bar & Grill
Sacramento, California
DV0602H
Their Own Way
Bluewater Seafood Market & Grill
San Diego, California
April 13, 2009
Brandy's Restaurant & Bakery
Flagstaff, Arizona
Kuma's Corner
Chicago, Illinois
DV0603H
A Little Bit of Everywhere
Bar Gernika
Boise, Idaho
April 20, 2009
Café Rolle
Sacramento, California
Havana Hideout
Lake Worth, Florida
DV0604H
A Burger, A Bowl and a Slice
La Piazza Al Forno
Glendale, Arizona
April 27, 2009
Slim's Last Chance Chili Shack & Watering Hole
Seattle, Washington
Twisted Root Beer Co.
Dallas, Texas
DV0605H
Biscuits, Bagels and BLTs
Arleta Library, Bakery & Café
Portland, Oregon
May 4, 2009
Bubba's Diner
San Anselmo, California
Flakowitz of Boynton Bakery & Deli Restaurant
Boynton Beach, Florida
DV0606H
Who'da Thunk It
Backroad Pizza
Santa Fe, New Mexico
May 11, 2009
Jamaica Gates Caribbean Cuisine
Arlington, Texas
Chef Lou's Westside Drive-In
Boise, Idaho
DV0607H
Go-To Joints
Black Duck Café
Westport, Connecticut
May 25, 2009
Otto's Sausage Kitchen & Meat Market
Portland, Oregon
Sol Food Puerto Rican Cuisine
San Rafael, California
DV0608H
Homestyle
Giuseppe's Restaurant
Phoenix, Arizona
June 1, 2009
Southern Kitchen Restaurant
Tacoma, Washington
Zia Diner & Angel Food Catering
Santa Fe, New Mexico
DV0609H
All Kinds of Classics
Blue Marlin Fish House Restaurant
North Miami Beach, Florida
June 8, 2009
Fred's Texas Café
Fort Worth, Texas
Pine State Biscuits
Portland, Oregon
DV0610H
All Over The Map
Georgia Greek Restaurant & Deli
Seattle, Washington
June 15, 2009
Los Tacquitos Grill
Phoenix, Arizona
Rocco's Café
San Francisco, California
DV0611H
Old Time Favorites
Blueplate Lunch Counter & Soda Fountain
Portland, Oregon
June 22, 2009
Don's Hilltop Kodiak Grill
Boise, Idaho
La Camoronera Restaurant & Fish Market
Miami, Florida
DV0612H
Comfort Cookin'
Dottie's True Blue Café
San Francisco, California
June 29, 2009
Over Easy
Phoenix, Arizona
Comet Café
Milwaukee, Wisconsin
DV0613H
Mama's Cookin'
Polka Restaurant & Catering
Los Angeles, California
July 27, 2009
Avila's Café
Dallas, Texas
Mama E's
Oklahoma City, Oklahoma
Season 7
Edit
Episode
Title
Restaurant
Location
Original Air Date
DV0701H
Upper Crust
Bunk Sandwiches
Portland, Oregon
August 3, 2009
Sonny's Famous Steak Hogies
Hollywood, Florida
The Depot American Diner
Chicago, Illinois
DV0702H
Burgers, Tacos & Dogs
Lankford Grocery
Houston, Texas
August 10, 2009
Fab Hot Dogs
Reseda, California
Cempazuchi
Milwaukee, Wisconsin
DV0703H
Name That Cook
Rick's Press Room & Grill
Meridian, Idaho
August 17, 2009
Nic's Grill
Oklahoma City, Oklahoma
Pam's Kitchen
Seattle, Washington
DV0704H
Global Grub
Prince Lebanese Grill
Arlington, Texas
August 24, 2009
Tre Kronor
Chicago, Illinois
La Texanita
Santa Rosa, California
DV0705H
Only At This Joint
Podnah's Pit Barbeque
Portland, Oregon
August 31, 2009
Donnie Mac's Trailer Park Cuisine
Boise, Idaho
Whale's Rib
Deerfield Beach, Florida
DV0706H
You Picked 'Em
Eischen's Bar & Grill
Okarche, Oklahoma
September 7, 2009
Mom's Tamales
Los Angeles, California
Kenny & Ziggy's
Houston, Texas
DV0707H
You Can Say That Again
Tap Tap Haitian Restaurant
Miami Beach, Florida
October 5, 2009
Pok Pok
Portland, Oregon
Niko Niko's
Houston, Texas
DV0708H
Barbequed, Baked & Brined
Honky Tonk BBQ
Chicago, Illinois
October 12, 2009
Pizzalchik
Boise, Idaho
Lucky's Café
Cleveland, Ohio
DV0709H
Blast from the Past
Cattlemen's Steakhouse
Oklahoma City, Oklahoma
October 19, 2009
Sam LaGrassa's
Boston, Massachusetts
Nickel Diner
Los Angeles, California
DV0710H
Dives Worth a Drive
Parkview Nightclub
Cleveland, Ohio
October 26, 2009
The Shanty
Wadsworth, Illinois
Grover's Bar & Grill
East Amherst, New York
DV0711H
Family Style
Louis Family Restaurant
Providence, Rhode Island
November 2, 2009
Café Pita+
Houston, Texas
Mambos Café
Glendale, California
DV0712H
Diners Times Three
The Little Depot Diner
Peabody, Massachusetts
November 9, 2009
Santa Cruz Diner
Santa Cruz, California
The Diner
Norman, Oklahoma
DV0713H
Legacies
Lake Effect Diner
Buffalo, New York
November 16, 2009
Geraci's Restaurant
Cleveland, Ohio
Morin's Hometown Bar & Grill
Attleboro, Massachusetts
Season 8
Edit
Episode
Title
Restaurant
Location
Original Air Date
DV0801H
Burgers, Steaks & Chops
Mr. Bartley's Gourmet Burgers
Cambridge, Massachusetts
November 23, 2009
T-Bone Tom's Steakhouse
Kemah, Texas
Tee Off Bar & Grill
San Francisco, California
DV0802H
Pizza, Pork & Paprikash
Pizza Junction
North Tonawanda, New York
January 11, 2010
Sterle's Slovenian Country House
Cleveland, Ohio
Q Restaurant
San Francisco, California
DV0803H
Stacked, Stuffed & Loaded
Bob's Taco Station
Rosenberg, Texas
January 18, 2010
Crazy Burger Café & Juice Bar
Narragansett, Rhode Island
The Oinkster
Eagle Rock, California
DV0804H
Triple D Goes Tailgatin'
Rudy's Can't Fail Cafe
Emeryville, California
January 25, 2010
900 Grayson Restaurant
Berkeley, California
Rick & Ann's Restaurant
Berkeley, California
DV0805H
Home And Away
Taste of Peru
Chicago, Illinois
February 1, 2010
Ingrid's Kitchen
Oklahoma City, Oklahoma
Blackthorn Restaurant & Pub
Buffalo, New York
DV0806H
By Request
South 21 Drive-In
Charlotte, North Carolina
February 8, 2010
Red Lion Pub & Restaurant
Houston, Texas
Melt Bar & Grilled
Lakewood, Ohio
DV0807H
And The Kicker Is...
Pawley's Front Porch
Columbia, South Carolina
February 15, 2010
Sophia Restaurant
Buffalo, New York
Bette's Oceanview Diner
Berkeley, California
DV0808H
Comfort Food Classics
The Liberty Elm Diner
Providence, Rhode Island
February 22, 2010
Naglee Park Garage
San Jose, California
Dish
Charlotte, North Carolina
DV0809H
Twists And Traditions
Earl's Drive-In
Chaffee, New York
March 22, 2010
Aldo's Harbor Restaurant
Santa Cruz, California
Momocho
Cleveland, Ohio
DV0810H
Fresh And Funky
Dish Café & Catering
Reno, Nevada
March 29, 2010
Landmark Restaurant
Charlotte, North Carolina
Pier 23 Café
San Francisco, California
DV0811H
Triple D Goes Hawaiian
Highway Inn & Ho'okipa Catering
Waipahu, Hawaii
April 5, 2010
Hank's Haute Dogs
Honolulu, Hawaii
Nico's Pier 38
Honolulu, Hawaii
Germaine's Luau
Kapolei, Hawaii
Season 9
Edit
Episode
Title
Restaurant
Location
Original Air Date
DV0901H
Surf 'n Turf
North End Café
Manhattan Beach, California
April 27, 2010
Gold 'N Silver Inn
Reno, Nevada
Singleton's Seafood Shack
Atlantic Beach, Florida
DV0902H
Homegrown & Homemade
The Farmer's Shed
Lexington, South Carolina
May 3, 2010
Poke Stop at Mililana Mauka Llc.
Mililani, Hawaii
Mulberry Café
Lackawanna, New York
DV0903H
Globetrottin'
Louis' Basque Corner
Reno, Nevada
May 10, 2010
13 Gypsies
Jacksonville, Florida
Gloria's Café
Los Angeles, California
DV0904H
Bringin' It Home
Café Citti
Kenwood, California
May 17, 2010
Cabo Fish Taco
Charlotte, North Carolina
Murphy's Bar & Grill
Honolulu, Hawaii
DV0905H
Porkapalooza
At Last Café
Long Beach, California
May 24, 2010
Virgil's Café
Bellevue, Kentucky
Martin's Bar-B-Que Joint
Nolensville, Tennessee
DV0906H
Grilled, Smoked & Sauced
Terry's Turf Club
Cincinnati, Ohio
May 31, 2010
Schellville Grille
Sonoma, California
Jake's Good Eats
Charlotte, North Carolina
DV0907H
Comfort Food With Attitude
Jax At The Trax
Truckee, California
June 7, 2010
Culhane's Irish Pub
Atlantic Beach, Florida
Blue Ash Chili Restaurant
Cincinnati, Ohio
DV0908H
Fast Food Their Way
Don Chow Tacos
Los Angeles, California
June 21, 2010
Rainbow Drive-In
Honolulu, Hawaii
Northern Waters Smokehaus
Duluth, Minnesota
DV0909H
Farm To Table
Blackwater Grill
St. Simons Island, Georgia
June 28, 2010
Comet Ping Pong
Washington, D.C.
Wallace Station
Versailles, Kentucky
DV0910H
Kansas City Barbeque Tour
Smokin' Guns BBQ
North Kansas City, Missouri
July 12, 2010
RJ's Bob-Be-Que Shack
Mission, Kansas
Johnny's Bar-B-Q
Mission, Kansas
Woodyard Bar-B-Que
Kansas City, Kansas
DV0911H
Burgers 'n More
Swagger Fine Spirits & Food
Kansas City, Missouri
July 19, 2010
Burger Me!
Truckee, California
Athens Family Restaurant
Nashville, Tennessee
DV0912H
You Called It
Paul's Coffee Shop
Fountain Valley, California
July 26, 2010
Rick's White Light Diner
Frankfort, Kentucky
Gordy's Hi-Hat
Cloquet, Minnesota
DV0913H
Old Time Attitude
Arnold's Country Kitchen
Nashville, Tennessee
August 9, 2010
Southern Soul Barbeque
St. Simons Island, Georgia
Maine Diner
Wells, Maine
Season 10
Edit
Episode
Title
Restaurant
Location
Original Air Date
DV1001H
Family Joints
Kramarczuk's
Minneapolis, Minnesota
August 30, 2010
Happy Gillis Café & Hangout
Kansas City, Missouri
Hillbilly Hot Dogs
Lesage, West Virginia
DV1002H
Tried and True
Mama Cozza's
Anaheim, California
September 9, 2010
Tune In Restaurant
Washington, D.C.
Bob's Clam Hut
Kittery, Maine
DV1003H
Timeless
Greek Corner Restaurant
Cambridge, Massachusetts
September 13, 2010
Bro's Cajun Cuisine
Nashville, Tennessee
The General Store
Silver Spring, Maryland
DV1004H
You Found 'Em
Parkette Drive In
Lexington, Kentucky
September 20, 2010
Metro Diner
Jacksonville, Florida
Al's Breakfast
Minneapolis, Minnesota
DV1005H
Wings, Dogs and Claws
The Lobster Shanty
Salem, Massachusetts
September 27, 2010
The Brick
Kansas City, Missouri
Oohh's & Aahh's Gourmet Deli
Washington, D.C.
DV1006H
Sauced and Spiced
J.J. McBrewster's
Lexington, Kentucky
October 4, 2010
At Sara's Table Chester Creek Café
Duluth, Minnesota
Café Rakka
Hendersonville, Tennessee
DV1007H
Made to Order
Rino's Place
East Boston, Massachusetts
October 25, 2010
The Blue Door Pub
St. Paul, Minnesota
Bay Way Diner
Linden, New Jersey
DV1008H
Fresh, Filled and Fried
Chaps Coffee Co.
Spokane, Washington
November 1, 2010
Good Dog Bar & Restaurant
Philadelphia, Pennsylvania
Porthole Restaurant
Portland, Maine
DV1009H
Gone Global
LaCaraquena
Falls Church, Virginia
November 8, 2010
Savarino's Cucina
Nashville, Tennessee
Brats Brothers
Sherman Oaks, California
DV1010H
A Triple D Thanksgiving
George's Place
Cape May, New Jersey
November 15, 2010
Becky's Diner
Portland, Maine
Sammy's Food Service & Deli
New Orleans, Louisiana
DV1011H
Sweet 'n Savory
Meal Ticket
Berkeley, California
November 26, 2010
Metro 29 Diner
Arlington, Virginia
Duluth Grill
Duluth, Minnesota
DV1012H
Wings 'n Things
10th Avenue Burrito
Belmar, New Jersey
December 13, 2010
Capone's Pub
Coeur d'Alene, Idaho
Jamaicaway
Nashville, Tennessee
DV1013H
Sandwiches Plus
Elk Public House
Spokane, Washington
December 18, 2010
Colossal Café
Minneapolis, Minnesota
Maui's Dog House
Wildwood, New Jersey
Season 11
Edit
Episode
Title
Restaurant
Location
Original Air Date
DV1101H
From Pork to Tofu
Tortilla Café
Washington, D.C.
January 3, 2011
Memphis Taproom
Philadelphia, Pennsylvania
The Golden Bear
Sacramento, California
DV1102H
Po' Boys, Pasta & Pork
Mahoney's Po-Boy Shop
New Orleans, Louisiana
January 10, 2011
Hill's Restaurant & Lounge
Spokane, Washington
Q Fanatic BBQ
Champlin, Minnesota
DV1103H
Funky Finds
Sage General Store
Long Island City, New York
January 17, 2011
Quahog's Seafood Shack
Stone Harbor, New Jersey
W.O.W. - Worth Our Weight
Santa Rosa, California
DV1104H
Quirky Classics
Louie & The Red Head Lady
Mandeville, Louisiana
January 24, 2011
Honey's Sit-N-Eat
Philadelphia, Pennsylvania
Picabu Neighborhood Bistro
Spokane, Washington
DV1105H
A Little Twisted
The Pit Stop
Merrick, New York
January 31, 2011
Gatsby's Diner
Sacramento, California
Anchor Bar
Superior, Wisconsin
DV1106H
Signature Sandwiches
La Pines Café
Slidell, Louisiana
February 7, 2011
Steuben's Food Service
Denver, Colorado
3 Sisters Café
Indianapolis, Indiana
DV1107H
Favorites With A Twist
Jimmy's Down the Street
Coeur d'Alene, Idaho
February 28, 2011
Aunt Mary's Café
Oakland, California
Corey's Catsup & Mustard
Manchester, Connecticut
DV1108H
Soup & Sandwiches
Pineville Tavern
Pineville, Pennsylvania
March 7, 2011
Indy's Historic Steer-In Restaurant
Indianapolis, Indiana
Dad's Kitchen
Sacramento, California
DV1109H
From Crepes to Kreplach
Ben's Best Deli
Rego Park, New York
March 14, 2011
Foolish Craig's Café
Boulder, Colorado
Waddell's Pub & Grille
Spokane, Washington
DV11010H
Fully Loaded
Katie's Restaurant
New Orleans, Louisiana
March 21, 2011
Jersey Café
Carmel, Indiana
Merritt Canteen Inc.
Bridgeport, Connecticut
DV11011H
From Mozz to Matzo Balls
Sunflower Café
Sonoma, California
March 28, 2011
Hildebrandt's
Williston Park, New York
The Bagel Delicatessen & Restaurant
Denver, Colorado
DV1112H
Signature Twists
The Barking Dog
Indianapolis, Indiana
April 4, 2011
Putah Creek Café
Winters, California
The Old Coffee Pot Restaurant
New Orleans, Louisiana
DV1113H
Porktastic
Jimtown Store
Healdsburg, California
April 11, 2011
Dough Pizzeria Napoletana
San Antonio, Texas
Sam's No. 3
Denver, Colorado
Season 12
Edit
Episode
Title
Restaurant
Location
Original Air Date
DV1201H
Bar Food and Bon Bons
The Sparrow Tavern
Astoria, New York
May 9, 2011
Catelli's
Geyserville, California
Zest
Indianapolis, Indiana
DV1202H
From Kraut to Couscous
Lauer-Krauts
Brighton, Colorado
May 16, 2011
Moroccan Bites
San Antonio, Texas
California Tacos To Go
Tampa, Florida
DV1203H
You Can Only Get It Here
HRD Coffee Shop
San Francisco, California
May 23, 2011
The Tamale Place
Indianapolis, Indiana
Garifuna Flava
Chicago, Illinois
DV1204H
Grillin' and Smokin'
Bun 'N Barrel
San Antonio, Texas
September 12, 2011
Tocabe American Indian Eatery
Denver, Colorado
Munch's Restaurant & Sundries
St. Petersburg, Florida
DV1205H
Southern Flavor
Broken Record
San Francisco, California
September 19, 2011
Bang!
Denver, Colorado
Jose's Real Cuban Food
Bradenton, Florida
DV1206H
Gettin' Fresh
The Sink
Boulder, Colorado
September 26, 2011
Nana Organic
Chicago, Illinois
Get Fresh Café
Norfolk, Virginia
DV1207H
Homemade & Homebrewed
Tampa Bay Brewing Co.
Tampa, Florida
October 3, 2011
Zydeco's
Mooresville, Indiana
Chilam Balam
Chicago, Illinois
DV1208H
Latin Street Food
Irazu
Chicago, Illinois
October 10, 2011
Beto's Comida Latina
San Antonio, Texas
Tortilleria Nixtamal
Corona, New York
DV1209H
Slammin' Sammies
Taco Taco Mexican Restaurant
San Antonio, Texas
October 17, 2011
Whitner's Barbeque
Virginia Beach, Virginia
DMK Burger Bar
Chicago, Illinois
DV1210H
Global Comfort
Rigoletto Italian Bakery & Café
Virginia Beach, Virginia
October 24, 2011
Chuck's Southern Comforts Café
Burbank, Illinois
El Bohio
San Antonio, Texas
DV1211H
Breakfast, Lunch & Dinner
Magnolia Pancake Haus
San Antonio, Texas
October 31, 2011
Taco Bus
Tampa, Florida
Beach Pub
Virginia Beach, Virginia
DV1212H
Pizza, Pancakes & Pork
Supino Pizzeria
Detroit, Michigan
November 7, 2011
Big & Littles
Chicago, Illinois
Citrus Breakfast & Lunch
Virginia Beach, Virginia
DV1213H
Old to New
Polish Village Café
Hamtramck, Michigan
November 21, 2011
Leaping Lizards Café
Virginia Beach, Virginia
Jethros Fine Grub
Vancouver, British Columbia
Season 13
Edit
Episode
Title
Restaurant
Location
Original Air Date
DV1301H
Seafood & Sammies
Fresh Local Wild
Vancouver, British Columbia
November 28, 2011
Traffic Jam & Snug
Detroit, Michigan
Panozzo's Italian Market
Chicago, Illinois
DV1302H
Coast to Coast Classics
Tomahawk Restaurant
North Vancouver, British Columbia
December 5, 2011
Danny's All American Diner
Tampa, Florida
DV1303H
Kid Rock's Detroit Tour
Clarkston Union Bar & Kitchen
Clarkston, Michigan
December 12, 2011
Union Woodshop
Clarkston, Michigan
Michigan Brewing Co.
Webberville, Michigan
DV1304H
Southern Staples
Red Wagon Café
Vancouver, British Columbia
December 19, 2011
Perfectly Franks
Summerville, South Carolina
Mama's Food Shop
New York, New York
DV1305H
Scratch Made Classics
Lito's Mexican Restaurant
Santa Barbara, California
December 26, 2011
Save On Meats
Vancouver, British Columbia
The Redhead
New York, New York
DV1306H
Meat Madness
Rincon Criollo
Corona, New York
January 16, 2012
Tattooed Moose
Charleston, South Carolina
Falconetti's
Vancouver, British Columbia
DV1307H
Global Traditions
John's of 12th Street
New York, New York
January 23, 2012
Mac's Fish & Chip Shop
Santa Barbara, California
DV1308H
Multitaskers
The Early Bird Diner
Charleston, South Carolina
January 30, 2012
Boulevard Diner
Dundalk, Maryland
The Kitchen
Oxnard, California
DV1309H
Family Matters
Sidecar
Brooklyn, New York
February 6, 2012
Peaceful Restaurant
Vancouver, British Columbia
Flip Flops Grill & Chill
Virginia Beach, Virginia
DV1310H
Old Faves, New Craves
Norton's Pastrami & Deli
Santa Barbara, California
February 13, 2012
Meat & Bread
Vancouver, British Columbia
Fuel Cantina
Charleston, South Carolina
DV1311H
Long Standing Legacies
Defonte's Sandwich Shop
Brooklyn, New York
February 20, 2012
The Glass Onion
Charleston, South Carolina
Galway Bay Irish Pub
Annapolis, Maryland
DV1312H
Time Tested Treasures
R&R Taqueria
Elkridge, Maryland
February 27, 2012
Nye's Polonaise Room
Minneapolis, Minnesota
Moseberth's Fried Chicken
Portsmouth, Virginia
DV1313H
Outside the Box
Joe Squared Pizza
Baltimore, Maryland
March 5, 2012
Pepe's and Mito's
Dallas, Texas
Savoy Café & Deli
Santa Barbara, California
Season 14
Edit
Episode
Title
Restaurant
Location
Original Air Date
DV1401H
Triple D All Stars
Pizzeria Lola
Minneapolis, Minnesota
April 2, 2012
Monument Cafe
Georgetown, Texas
DV1402H
Streamlined Sammies
Luke's Inside Out
Austin, Texas
April 9, 2012
Smack Shack at The 1029 Bar
Minneapolis, Minnesota
Maple & Motor
Dallas, Texas
DV1403H
Crankin' Up the Classics
Broders' Cucina Italiana
Minneapolis, Minnesota
April 16, 2012
Chop House Burgers
Arlington, Texas
DV1404H
Passin' The Baton
Pete's Breakfast House
Ventura, California
April 23, 2012
Sip & Bite Restaurant
Baltimore, Maryland
DV1405H
Big Time Flavor
Marla's Caribbean Cuisine
Minneapolis, Minnesota
April 30, 2012
Cane Rosso
Dallas, Texas
Counter Cafe
Austin, Texas
DV1406H
Unexpected Eats
Smalley's Caribbean Barbeque
Stillwater, Minnesota
May 7, 2012
Johnny Garlic's
Santa Rosa, California
Harvey's Hot Dogs II
Portsmouth, Virginia
DV1407H
BBQ Road Show
Pecan Lodge
Dallas, Texas
May 28, 2012
John Mull's Meats and Road Kill Grill
Las Vegas, Nevada
DV1408H
All Vegas, All the Time
Naked City Pizza
Las Vegas, Nevada
June 4, 2012
Forte European Tapas Bar & Bistro
Las Vegas, Nevada
UNLV
Las Vegas, Nevada
DV1409H
Serious Sandwiches
Lola's - A Louisiana Kitchen
Las Vegas, Nevada
June 11, 2012
Noble Pig Sandwiches
Austin, Texas
Casper & Runyon's Nook
St. Paul, Minnesota
DV1410H
International Eats
Bachi Burger
Las Vegas, Nevada
June 18, 2012
Afrah
Richardson, Texas
Gazala's Place
New York, New York
DV1411H
Belly Up
Hopleaf Bar
Chicago, Illinois
June 25, 2012
Foreign & Domestic
Austin, Texas
DV1412H
Dynamic Dishes
Jawaiian Irie Jerk Restaurant
Honolulu, Hawaii
July 2, 2012
Taste of Europe
Arlington, Texas
Yayo Taco
Las Vegas, Nevada
DV1413H
Coast to Coast Chow
Camille's on Wheels
Kailua, Hawaii
July 30, 2012
Chicago Brauhaus
Chicago, Illinois
Dixie Supply Bakery & Cafe
Charleston, South Carolina
Season 15
Edit
Episode
Title
Restaurant
Location
Original Air Date
DV1501H
Unconventional Comforts
He'eia Kea Pier General Store and Deli
Kaneohe, Hawaii
August 5, 2012
Rex Italian Foods
Norridge, Illinois
Memphis Street Cafe
Hernando, Mississippi
DV1502H
Goin' the Extra Mile
bopNgrill
Chicago, Illinois
August 13, 2012
Sweet Home Waimanalo
Waimanalo, Hawaii
DV1503H
Savory Standouts
90 Miles Cuban Cafe
Chicago, Illinois
August 19, 2013
Davis' Pub
Annapolis, Maryland
DV1504H
Surf 'N' Turf Jackpot
Memphis Barbecue Co.
Horn Lake, Mississippi
August 27, 2012
Fresh Catch
Honolulu, Hawaii
DV1505H
Massachusetts Madness
Italian Express Pizzeria
East Boston, Massachusetts
September 3, 2012
Cutty's
Brookline, Massachusetts
DV1506H
East Coast Comfort
Tupelo
Cambridge, Massachusetts
September 24, 2012
Patti's Pierogis
Fall River, Massachusetts
Angelo's Civito Farnese
Providence, Rhode Island
Mediterraneo Caffe
Providence, Rhode Island
DV1507H
Flavortown Medley
South Of Beale (SOB)
Memphis, Tennessee
October 1, 2012
Big Wave Shrimp Truck
Haleiwa, Hawaii
Chaps Pit Beef
Baltimore, Maryland
DV1508H
Burgers, Noodles and Quahogs
Boston Burger Company
Boston, Massachusetts
October 8, 2012
Anthony's Seafood
Middletown, Rhode Island
Guerilla Street Food
St. Louis, Missouri
DV1509H
Handcrafted
The Elegant Farmer
Mukwonago, Wisconsin
October 15, 2012
Italian Corner
East Providence, Rhode Island
DV1510H
All Family, All the Time
Anthonino's Taverna
St. Louis, Missouri
October 22, 2012
Three Angels Diner
Memphis, Tennessee
Opal Thai Food
Haleiwa, Hawaii
DV1511H
Food Done Right
Aunt Carrie's
Narragansett, Rhode Island
October 29, 2012
The Shaved Duck
St. Louis, Missouri
Angela's Cafe
East Boston, Massachusetts
DV1512H
Pubs and Grub
Dressel's Public House
St. Louis, Missouri
November 5, 2012
Outer Banks Brewing Station
Kill Devil Hills, North Carolina
Edgewood Cafe
Cranston, Rhode Island
DV1513H
Turn On Traditional
Kitty Hoynes
Syracuse, New York
November 12, 2012
Espino's Mexican Bar and Grill
Chesterfield, Missouri
Yankee Lobster Company
Boston, Massachusetts
Season 16
Edit
Episode
Title
Restaurant
Location
Original Air Date
DV1601H
Authentic Eats
Highway 61 Roadhouse and Kitchen
Webster Groves, Missouri
December 10, 2012
Byblos Mediterranean Cafe
Syracuse, New York
DV1602H
Fully Focused
Brine and Bottle
Nags Head, North Carolina
December 17, 2012
Pastabilities
Syracuse, New York
DV1603H
Far Out
La Isla Restaurant
Hoboken, New Jersey
December 24, 2012
Funk 'n Waffles
Syracuse, New York
Cravings
Duck, North Carolina
DV1604H
Matches Made in Heaven
Ortegaz' Southwestern Grill
Manteo, North Carolina
January 7, 2013
The Smoke Joint
Brooklyn, New York
DV1605H
Savory Sensations
The Weeping Radish
Jarvisburg, North Carolina
January 14, 2013
Jimmy's Diner
Brooklyn, New York
DV1606H
Hometown Haunts
Marie's Italian Specialties
Chatham, New Jersey
January 21, 2013
Darby's Cafe
Olympia, Washington
DV1607H
Land to Sea
Empire Brewing Company
Syracuse, New York
February 11, 2013
Black Pelican Oceanfront Restaurant
Kitty Hawk, North Carolina
Fish Tale Brew Pub
Olympia, Washington
DV1608H
Decadent Dishes
Crockett's Public House
Puyallup, Washington
February 18, 2013
Pies 'N' Thighs
Brooklyn, New York
DV 1609H
Eurocentric
Eva's European Sweets
Syracuse, New York
February 24, 2013
Bruno's European Restaurant
Tacoma, Washington
Hey Meatball
Toronto, Ontario, Canada
DV1610H
Hittin' the Grill
Crown Bar
Tacoma, Washington
March 4, 2013
The Golden State
Los Angeles, California
DV1611H
Unlikely Partners
Beer Belly
Los Angeles, California
March 11, 2013
Lakeview Restaurant
Toronto, Ontario, Canada
DV1612H
Layers of Flavor
Tortugas' Lie
Nags Head, North Carolina
March 18, 2013
The Ace
Toronto, Ontario, Canada
DV1613H
Real Deal Roots
Chomp Chomp Nation
Irvine, California
March 25, 2013
Caplansky's
Toronto, Ontario, Canada
Season 17
Edit
Episode
Title
Restaurant
Location
Original Air Date
DV1701H
Tacos and Tots
Dirty Oscar's Annex
Tacoma, Washington
April 22, 2013
Highland Tavern
Denver, Colorado
DV1702H
Chicken, Chili and Chowder
Sidecar Bar and Grille
Philadelphia, Pennsylvania
April 29, 2013
Chili John's
Burbank, California
Stockyards Smokehouse and Larder
Toronto, Ontario, Canada
DV1703H
Dynamic Duos
Atomic Cowboy
Denver, Colorado
May 6, 2013
Perk Eatery
Scottsdale, Arizona
DV1704H
Traditional Gone Wild
South Philadelphia Tap Room
Philadelphia, Pennsylvania
May 13, 2013
St. Francis
Phoenix, Arizona
DV1705H
Peppers, Pork and Poutine
Barrio Cafe
Phoenix, Arizona
May 20, 2013
Rosedale Diner
Toronto, Ontario, Canada
DV1706H
Kings and Queens of 'Cue
Hops & Pie
Denver, Colorado
May 27, 2013
Bludso's BBQ
Compton, California
Percy Street Barbecue
Philadelphia, Pennsylvania
DV1707H
A Festival of Flavor
Standard Tap
Philadelphia, Pennsylvania
June 17, 2013
Curry Corner
Tempe, Arizona
Prohibition
Denver, Colorado
DV1708H
Timeless Traditions
Jamaican Jerk Hut
Philadelphia, Pennsylvania
June 24, 2013
DeFalco's Italian Eatery, Grocery & Deli
Scottsdale, Arizona
CoraFaye's Café
Denver, Colorado
DV1709H
From Pound Cake to Pot Pie
Geechee Girl Rice Cafe
Philadelphia, Pennsylvania
July 1, 2013
Haggo's Organic Taco
Leucadia, California
The Duce
Phoenix, Arizona
DV1710H
L.A. Eats
The Park's Finest BBQ
Los Angeles, California
July 8, 2013
Eastside Market Italian Deli
Los Angeles, California
DV1711H
All San Diego, All the Time
Hodad's
Ocean Beach, California
August 5, 2013
OB Noodle House
San Diego, California
Pizzeria Luigi
San Diego, California
DV1712H
From the Heart
Shirley's Tippy Canoe
Troutdale, Oregon
August 12, 2013
Spirito's Italian Diner
Carlsbad, California
Nopalito
San Francisco, California
DV1713H
That's Fresh
Pica Pica Arepa Kitchen
San Francisco, California
August 19, 2013
Edelweiss Sausage & Delicatessen
Portland, Oregon
Season 18
Edit
Episode
Title
Restaurant
Location
Original Air Date
DV1801H
Neighborhood Knockouts
Crest Café
San Diego, California
August 26, 2013
Show Dogs
San Francisco, California
Industrial Café & Saloon
Portland, Oregon
DV1802H
Meat Lover's Paradise
The Refuge
San Carlos, California
September 2, 2013
The Country Cat
Portland, Oregon
DV1803H
Servin' Up San Francisco
Miller's East Coast Deli
San Francisco, California
September 9, 2013
Koja Kitchen Food Truck
The Front Porch
DV1804H
Cannoli, Fritters and Wings
Senor Sisig Food Truck
San Francisco, California
September 16, 2013
A Taste of Home Cooking
Wheat Ridge, Colorado
PDX671 Food Trailer
Portland, Oregon
DV1805H
Aces of Authenticity
Casa Chimayo Restaurant
Santa Fe, New Mexico
October 21, 2013
Frank's Noodle House
Portland, Oregon
Torinos
Albuquerque, New Mexico
DV1806H
Sammies and Stew
Jambo Cafe
Santa Fe, New Mexico
October 28, 2013
Bocadillos
Albuquerque, New Mexico
DV1807H
All Kinds of Gobble Gobble
Back Street Bistro
Santa Fe, New Mexico
November 18, 2013
Golden Crown Panaderia
Albuquerque, New Mexico
Danny Edwards BBQ
Kansas City, Missouri
DV1808H
Comfort and Soul
Tin Shed Garden Cafe
Portland, Oregon
November 25, 2013
Nexus Brewery
Albuquerque, New Mexico
BB's Lawnside BBQ
Kansas City, Missouri
DV1809H
Pork, Pasta and Barbecue
Succotash
Kansas City, Missouri
December 2, 2013
Cupini's
Kansas City, Missouri
The Cube
Albuquerque, New Mexico
DV1810H
South of the Border
Asi y Asado
Cabo San Lucas, Mexico
December 9, 2013
Tiki Bar
Cabo San Lucas, Mexico
Solomon's Landing
Cabo San Lucas, Mexico
DV1811H
Tennessee Holiday Traditions
Center Point Pit Barbecue
Hendersonville, Tennessee
December 16, 2013
Mas Tacos por Favor
Nashville, Tennessee
DV1812H
Family Time
The Grilled Cheeserie
Nashville, Tennessee
December 23, 2013
Caffe Nonna
Nashville, Tennessee
Blue Koi
Kansas City, Missouri
DV1813H
Soup, Salad and Seafood
PotPie
Kansas City, Missouri
December 30, 2013
55 South
Franklin, Tennessee
Phat Bites
Nashville, Tennessee
Season 19
Edit
Episode
Title
Restaurant
Location
Original Air Date
DV1901H
Guy's Hometown Tour
Humboldt Sweets
Ferndale, California
February 7, 2014
Hotel Ivanhoe
Ferndale, California
Clendenen's
Fortuna, California
Loleta Cheese Factory
Loleta, California
Ferndale Meat Co.
Ferndale, California
DV1902H
All Things New York
Paul's Live from New York
Eureka, California
February 14, 2014
Black Tree
New York, New York
Queens Comfort
Astoria, New York
DV1903H
Big Time Bites
The Brindle Room
New York, New York
February 21, 2014
Bun-ker Vietnamese
Ridgewood, New York
Brick and Fire
Eureka, California
DV1904H
Keepin' it Real
Sakaya Kitchen
Miami, Florida
February 28, 2014
Don Antonio
New York, New York
Bless My Soul Cafe
Eureka, California
DV1905H
Dynamite Duos
Cafe Nooner
Eureka, California
March 7, 2014
Ducks Eatery
New York, New York
Whisk
Miami, Florida
DV1906H
Kickin' it in Key West
Garbo's Grill
Key West, Florida
March 14, 2014
DJ's Clam Shack
Key West, Florida
Bad Boy Burrito
Key West, Florida
DV1907H
From Meatballs to Lollipops
Tin Roof Grill
Sandy, Utah
April 25, 2014
Latin House Burger & Taco Bar
Miami, Florida
Maxwell's East Coast Eatery
Salt Lake City, Utah
DV1908H
Cross Country Comfort Food
Sammy's Bistro
Park City, Utah
May 9, 2014
Silver Star Cafe
Park City, Utah
Blue Collar
Miami, Florida
DV1909H
International Family Style
Oh Mai Vietnamese Sandwich
Salt Lake City, Utah
May 16, 2014
Aristo's Greek Cuisine
Salt Lake City, Utah
Boots & Kimo's Homestyle Kitchen
Kailua, Hawaii
DV1910H
Island Flavor
Elena's
Waipahu, Hawaii
May 23, 2014
Uahi Island Grill
Kailua, Hawaii
Dean's Drive Inn
Kaneohe, Hawaii
DV1911H
Grillin', Chillin' and Huli Huli Chicken
The Federal Miami
Miami, Florida
May 30, 2014
Mike's Huli Huli Chicken
Kaneohe, Hawaii
Tamarindo Food Truck
Orange County, California
DV1912H
Righteous Bites
Loulou's Griddle in the Middle
Monterey, California
June 6, 2014
Fat Sal's
Los Angeles, California
The Alley Restaurant
Aiea, Hawaii
Season 20
Edit
Note: Season 20 only has five episodes.
Episode
Title
Restaurant
Location
Original Air Date
DV2001H
California Cruisin'
Sabroso! Mexican Grill
Garden Grove, California
July 11, 2014
Rutt's Hawaiian Cafe
Los Angeles, California
Monterey's Fish House
Monterey, California
DV2002H
Stuffed and Twisted
Blunch
Boston, Massachusetts
July 18, 2014
Sidewinder's American Grill & Tavern
Jackson, Wyoming
Rosine's
Monterey, California
DV2003H
Old Standards, New Styles
Cannery Row Brewing Company
Monterey, California
July 25, 2014
Pinky G's Pizzeria
Jackson, Wyoming
Starling Diner
Long Beach, California
DV2004H
From Standards to Standouts
The Factory Gastrobar
Long Beach, California
August 1, 2014
Little Napoli
Carmel, California
Pica's Mexican Taqueria
Jackson, Wyoming
DV2005H
All Day Dining
Tavern on 2
Long Beach, California
August 8, 2014
The Wild Plum Cafe & Bakery
Monterey, California
Nora's Fish Creek Inn
Wilson, Wyoming
Season 21
Edit
Episode
Title
Restaurant
Location
Original Air Date
DV2101H
Roadtrippin' in Beantown
Deep Ellum
Allston, Massachusetts
September 5, 2014
Lone Star Taco Bar
Allston, Massachusetts
Cafe Polonia
Boston, Massachusetts
DV2102H
Seriously Saucy
Cafe Genevieve
Jackson, Wyoming
September 12, 2014
Melt Eclectic Cafe
Cincinnati, Ohio
Saus
Boston, Massachusetts
DV2103H
Cross-Country Classics
Shorty's Pizza & Smoked Meat
Superior, Wisconsin
September 19, 2014
Trina's Starlite Lounge
Somerville, Massachusetts
From Scratch Restaurant
Carmel, California
DV2104H
Worldwide Flavorfest
Pak's Green Corner
Duluth, Minnesotta
September 26, 2014
Casa Razadora
Boston, Massachusetts
Island Frydays
Cincinnati, Ohio
DV2105H
Small Town Standouts
Kounty Quarthouse
South Range, Wisconsin
October 3, 2014
Lotus Cafe
Jackson, Wyoming
Junkyard Extreme Burgers and Brats
Junction City, Oregon
DV2106H
One Street Wonders
Taste of Belgium
Cincinnati, Ohio
October 10, 2014
Senate Pub
Bakersfield OTR
DV2107H
Old School Joints
Delta Diner
Delta, Wisconsin
October 31, 2014
Gannucci's Italian Market
Duluth, Minnesotta
Cornbread Cafe
Eugene, Oregon
DV2108H
Meat in the Middle
The Sandwich League
Eugene, Oregon
November 7, 2014
Grano Pasta Bar
Baltimore, Maryland
The Brick House Cafe and Catering
Cable, Wisconsin
DV2109H
Soup-Centric
Slainte Irish Pub
Baltimore, Maryland
November 14, 2014
Soup Nation
Eugene, Oregon
Pho Lang Thang
Cincinatti, Ohio
DV2110H
All Baltimore, All the Time
-
Baltimore, Maryland
November 21, 2014
-
-
DV2111H
Chicken Chowfest
-
Baltimore, Maryland
November 28, 2014
-
Eugene, Oregon
-
Des Moines, Iowa
DV2112H
Fresh Fish & Funky Chicken
Smokey D's BBQ
Des Moines, Iowa
December 5, 2014
Mi Patria Ecuadorian Restaurant
Fisherman's Market
Eugene, Oregon
DV2113H
Oldies But Goodies
George The Chili King Drive-In
Des Moines, Iowa
December 12, 2014
Oyster Creek Inn
Leeds Point, New Jersey
-
Brigantine, New Jersey
Season 22
Edit
Season in progress; entries based on information obtained from Food Network.com.
Work in progress.
Episode
Title
Restaurant
Location
Original Air Date
DV2201H
Fish, Fries and Feet
Tacopocalypse
Des Moines, Iowa
January 16, 2015
Flying Mango Restaurant
Kelsey and Kim's Southern Cafe
Atlantic City, New Jersey
DV2202H
Cruisin' the Italian Countryside
Port Ellen Clan
Lucca, Italy
January 23, 2015
La Taverna Dei Miracoli Da Mangiafuoco
Collodi, Italy
Windows on the World (W.O.W.)
Montecatini-Terme, Italy
DV2203H
Fillin' up in Florence
Fratelli Briganti
Florence, Italy
January 30, 2015
La Cucina Del Garga
Il Gusta Pizza
DV2204H
Arizona All-Stars
Paradise Valley Burger Company
Scottsdale, Arizona
February 6, 2015
(unconfirmed)
Andreoli Italian Grocer
Tom's Thumb Fresh Market
DV2205H
Roadtrippin'
-
Phoenix, Arizona
February 27, 2015
-
Atlantic City, New Jersey
-
Bakersfield, California
DV2206H
From Atlantic to Pacific
-
Bakersfield, California
Unconfirmed
-
-
Somers Point, New Jersey
DV2207H
Globe Tasting
-
Bakersfield, California
Unconfirmed
-
Northfield, New Jersey
-
Phoenix, Arizona
DV2208H
Sweet, Savory and Saucy
--
--
Unconfirmed
--
--
--
--
DV2209H
To Bakersfield and Beyond
--
--
Unconfirmed
--
--
--
--
DV2210H
Driving Through Charlotte
--
--
May 1, 2015
--
--
--
--
DV2211H
Indulgent Dishes
--
--
--
--
--
--
--
DV2212H
Griddles and Vittles
--
--
--
--
--
--
--
DV2213H
Intercontinental Flavorfest
--
--
--
--
--
--
--
Season 23
Edit
Season 24
Edit
NOTE: Work in Progress.
A complete list of non-episode "specials" follows.
Episode
Title
Restaurant
Location
Original Air Date
VGSP01
Guy Fieri's Road Show
-
-
Unaired

-
-
DVSP01H
Diners, Drive-Ins & Dives (Special)
Rosie's Diner
Rockford, Michigan
November 6, 2006
Russian River Pub
Forestville, California
Beacon Drive-In
Spartanburg, South Carolina
Kelly's Diner
Somerville, Massachusetts
Dari-Ette Drive-In
St. Paul, Minnesota
Al's Breakfast
Minneapolis, Minnesota
Bayway Diner
Linden, New Jersey
DVSP02H
Best of Diners, Drive-Ins & Dives
--
--
--
--
--
DVSP03H
Best of Diners, Drive-Ins & Dives (2)
---
---
November 23, 2008
--
--
DVSP04H
Guy's Disney Holiday
Napa Rose Restaurant
Disneyland, California
December 5, 2009
--
--
DVSP05H
A North Pole Christmas
Country Cafe
North Pole, Alaska
December 7, 2009
Elf's Den Restaurant & Lounge
North Pole, Alaska
Pagoda Restaurant
North Pole, Alaska
Cookie Jar Restaurant
Fairbanks, Alaska
Silver Gulch Brewing and Bottling Co.
Fox, Alaska
Big Daddy's BBQ & Banquet
Fairbanks, Alaska
DVSP06H
Best From the Road
Matthew's Cafeteria
Tucker, Georgia
November 27, 2009
G&A Restaurant
Baltimore, Maryland
Wilson's Holy Smoke BBQ
Fairfield, Connecticut
The Original Vito & Nick's Pizzeria
Chicago, Illinois
The Cove
san Antonio, Texas
Tommy's Joynt
San Francisco, California
DVSP07H
Under the Hood
(Behind the Scenes)
(Behind the Scenes)
May 18, 2013
unconfirmed
DVSP08H
Diners, Drive-ins and Dives Sneak Peek
Crest Cafe
San Diego, California
November 11, 2013
unconfirmed
--
--
DVSP09H
Best of New York
The Smoke Joint
Brooklyn, New York
January 6, 2014
unconfirmed
Pies 'N' Thighs
Brooklyn, New York
The Redhead
New York, New York
John's of 12th Street
New York, New York
Defonte's Sandwich Shop, Manhattan
New York, New York
Ben's Best Deli
Rego Park, New York
DVSP10H
Top 10 Burgers
Crazee Burger
San Diego, California
January 24, 2014
unconfirmed
Burger Me
Truckee, California
Boston Burger Company
Sommerville, Massachusetts
Hodad's
Ocean Beach, California
bopNgrill
Chicago, Illinois
The Ace
Toronto, Ontario
Sweet Home Waimanalo
Waimanalo, Hawaii
The Nook
St. Paul, Minnesota
DMK Burger Bar
Chicago, Illinois
Swagger Fine Spirits & Food
Kansas City, Missouri
Bachi Burger
Las Vegas, Nevada
Mr. Bartley's Gourmet Burgers
Cambridge, Massachusetts
Parkette Drive In
Lexington, Kentucky
Gatsby's Diner
Sacramento, California
DVSP11H
Deep Fried All-Stars
Rizzo's Diner
Memphis, Tennessee
June 28, 2014
unconfirmed
Show Dogs Fine Sausages
San Francisco, California
Marie's Italian Specialties
Chatham, New Jersey
La Isla Restaurant
Hoboken, New Jersey
Tupelo
Cambridge , Massachusetts
Aunt Carrie's
Narragansett, Rhode Island
South Philadelphia Tap Room
Philadelphia, Pennsylvania
Highland Tavern
Denver, Colorado
Memphis Barbecue Co.
Horn Lake, Mississippi
Mac's Fish & Chip Shop
Santa Barbara, California
DVSP12H
BBQ Legends
Gorilla Barbeque
Pacifica, California
May 9, 2014
unconfirmed
Wilson's Holy Smoke BBQ
Fairfield, Connecticut
Whitner's Barbecue
Virginia Beach, Virginia
John Mull's Meats and Road Kill Grill
Las Vegas, Nevada
Martin's Bar-B-Que Joint
Nolensville, Tennessee
Smoque BBQ
Chicago, Illinois
DVSP13H
Wildest Joints
Funk 'n Waffles
Syracuse, New York
May 16, 2014
unconfirmed
The Duce
Phoenix, Arizona
Crockett's Public House
Puyallup, Washington
Clarkston Union Bar & Kitchen
Clarkston, Michigan
R&R Taqueria
Elkridge, Maryland
DVSP14H
Best of Pizza
The Original Vito & Nick's Pizzeria
Chicago, Illinois
--
Broders' Cucina Italiana
Minneapolis, Minnesota
Pizzeria Lola
Minneapolis, Minnesota
Pastabilities
Syracuse, New York
Pizzeria Luigi
San Diego, California
Naked City Pizza
Las Vegas, Nevada
Joe Squared Pizza
Baltimore, Maryland
DVSP15H
Amazing Italian
Marie's Italian Specialties
Chatham, New Jersey
February 8, 2014
Torino's at Home
Albuquerque, New Mexico
Italian Corner
Providence, Rhode Island
Catelli's
Geyserville, California
Rino's Place
Boston, Massachusetts
Cafe Citti
Kenwood, California
DVSP16H
Super Sandwiches
Noble Pig Sandwiches
Austin, Texas
February 17, 2014
Smack Shack at The 1029 Bar
Minneapolis, Minnesotta
Chaps Pit Beef
Baltimore, Maryland
Refuge
San Carlos, California
Beer Belly
Los Angeles, California
Mahony's Po-Boy Shop
New Orleans, Louisiana
Sonny's Famous Steak Hogies
Hollywood, Florida
Melt Bar & Grilled
Lakewood, Ohio
Pica Pica Arepa Kitchen
San Francisco, California
The Stockyards Smokehouse and Larder
Toronto. Canada
DVSP17H
Late Night Legends
Sip & Bite Restaurant
Baltimore, Maryland
March 21, 2014
Tatooed Moose
Charleston, South Carolina
Tampa Bay Brewing Company
Tampa, Florida
Broken Record
San Francisco, California
Nye's Polonaise Room
Minneapolis, Minnesota
Sidecar
Brooklyn, New York
Culhane's Irish Pub
Atlantic Beach, Florida
DVSP18H
Global Flavor Faves
PDX Six Seven One
Portland, Oregon
January 24, 2014
Unconfirmed
OB Noodle House
San Diego, California
Nopalito
San Francisco, California
Marla's Caribbean Cuisine
Minneapolis, Minesotta
Irazu
Chicago, Illinois
Taste of Peru
Chicago, Illinois
DVSP19H
Vegas Greats
Bachi Burger
Las Vegas, Nevada
April 14, 2014
John Mull's Meats and Road Kill Grill
Naked City Pizza
Forte European Tapas Bar and Bistro
UNLV
DVSP20H
Crazy for Chicken
Opai Thai Food
Haleiwa, Hawaii
April 18, 2014
PotPie
Kansas City, Missouri
Smalley's Caribbean Barbeque
Stillwater, Minnesotta
Tortuga's Lie
Nags Head, North Carolina
90 Miles Cuban Cafe
Chicago, Illinois
Taco Taco Cafe
San Antonio, Texas
Rincón Criollo
Corona-Queens, New York
Tocabe An American Indian Eatery
Denver, Colorado
The Glass Onion
Charleston, South Carolina
Uncle Lou's
Memphis, Tennessee
DVSP21H
Real Deal Mexican
Tortilleria Nixtamal
Corona, New York
May 30, 2014
unconfirmed
The Tamale Place
Indianapolis, Indiana
Salsa Brava
Flagstaff, Arizona
Momocho
Cleveland, Ohio
Red Iguana
Salt Lake City, Utah
DVSP22H
Grilling Greats
Louie Mueller's Barbecue
Taylor, Texas
June 21, 2014
Rick's Press Room Grill & Bar
Meridan, Indiana
Danny's All-American Diner & Dairy Bar
Tampa, Florida
Maple & Motor
Dallas, Texas
Jawaiian Irie Jerk Restaurant
Honolulu, Hawaii
Tom's Bar-B-Q
Memphis, Tennessee
Luke's Inside Out
Austin, Texas
DVSP23H
Legends of Texas
Niko Niko's
Houston, Texas
July 28, 2014
Chop House Burgers
Arlington, Texas
Red Lion Pub
Houston, Texas
Monument Cafe
Georgetown, Texas
Cane Rosso
Dallas, Texas
Mac & Ernie's Roadside Eatery
Tarpley, Texas
Bob's Taco Station
Rosenberg, Texas
DVSP24H
Chicago's Finest
Big and Little's
Chicago, Illinois
September 13, 2014
Chicago Brauhaus
Garifuna Flava Caribbean Restaurant
DVSP25H
Southern Spectacular
--
South Carolina
December 22, 2014
--
Oregon
--
St. Louis, Missouri
--
Indiana
--
The Carolinas
--
Kentucky
--
Michigan
DVSP26H
Best of Breakfast
--
California
December 23, 2014
--
Florida
--
New York
--
Arizona
--
Louisiana
DVSP27H
Memorable Moms
--
--
December 24, 2014
--
--
--
--
DVSP28H
Hometown Heroes
Bob's Clam Hut
Kittery, Maine
December 25, 2014
Eischen's
Okarche, Oklahoma
--
--
DVSP29H
Pork Hall of Fame
The Oinkster
Eagle Rock, California
December 26, 2014
Union Woodshop
--
North End Caffe
Manhattan Beach, California
Dough Pizzeria Napoletana
San Antonio, Texas
DVSP30H
Food Truckapalooza
--
--
March 28, 2015
--
--
--
--
--
--
--
--
--
--
DVSP31H
All Beefed Up
--
--
March 28, 2015
--
--
--
--
--
--
DVSP32H
Back to the Beginning
--
--
March 28, 2015
--
--
--
--
--
--
DVSP33H
Flavortown Faves
--
--
--
--
--
--
--
DVSP34H
Summer Spectacular
--
--
--
--
--
--
--