<-- Previous Episode -- List of Triple D Episodes -- Next Episode -->
---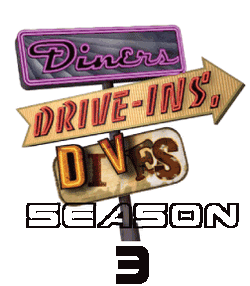 Neighborhood Joints is the fourth episode from the third season of Diners, Drive-Ins, and Dives.
Original air date: March 31, 2008
Description
Edit
Episode: (DV0304H)
"Guy Fieri searches out some neighborhood favs including the St. Louis tavern cranking out authentic international dishes like home made German spaetzle; the Virginia café where calzones are a taste of New York; BBQ at what looks like a New Jersey diner... in Arizona; and the Philadelphia area diner that's so local the regulars have their own coffee cups to help wash down the scrapple."
Restaurants
Edit
External Links
Edit
Ad blocker interference detected!
Wikia is a free-to-use site that makes money from advertising. We have a modified experience for viewers using ad blockers

Wikia is not accessible if you've made further modifications. Remove the custom ad blocker rule(s) and the page will load as expected.